Golden Albarino 3 Pack
Elliot Ranch Albariño 3 Vintage Gold Medal 3 Pack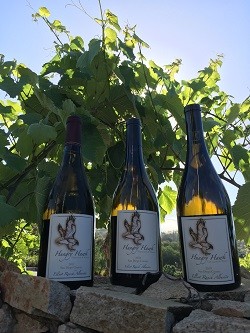 2017 Elliot Ranch Albariño
Gold Medal - 90 points - Orange County Wine Society Commercial Wine Competition
The vines which gave us this first vintage of Albariño at Elliot Ranch were meticulously cared for by Vineyard Manager, Crescincio Sausedo. The grapes were whole cluster pressed and the juice was fermented under cool temperatures to retain vibrant aromatics and acidity. What results is a bright, aromatic white wine which gives us notes of ruby red grapefruit, cantaloupe and white plumeria flower on the nose. This is followed on the palate by citrus and stone fruits with a bright, full, velvety finish.
2018 Elliot Ranch Albariño
Gold Medal - 92 points - Orange County Wine Society Commercial Wine Competition
¡Con Fuerza! Medium bodied with a vibrant aromatic profile of white peach, cantaloupe and caramelized pineapple with hints of jasmine followed by a full, velvety palate of key lime, pineapples, toasted stone fruits and a full, lingering satin finish.
2019 Elliot Ranch Albariño
Editor's Choice - 91 points - Wine Enthusiast
Our third vintage of Albariño from the vines grown at Elliot Ranch Vineyards is the finest yet. Bright yet smooth, Rich and full of fruit, but dry and balanced. Our best example, to date, of the collaboration between the Elliot and Embly families. Teamwork making fine wine!