2019 Summer Beehive Cheese Pairing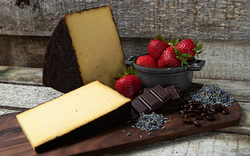 Devoted to the old-fashioned artistry, the family behind Beehive Cheese Co. handcrafts their award-winning product from creamy Utah milk into delectable, melt-in-your-mouth cheeses.
Mike Embly, our winemaker, has expertly selected six of our Hungry Hawk Vineyards & Winery wines for this private event.
This is an excellent opportunity to learn more about the synergy between food and wine. Come, join us, and in the hands of an expert winemaker and cheese-crafter, you will learn which of your favorite Hungry Hawk Vineyards & Winery wines are better suited to enjoy with specific selections of cheeses.
Thirsty Kettle Club Members $55
.